Post by aerofoto - HJG Admin on May 17, 2021 23:51:53 GMT
"DESTINATION VILLAVICENCIO" .... home of the last of the once great classic Colombian prop liner fleet
It was 04:30hrs on the morning of June 13th 2009. The sun had not yet risen over the city of Bogota, but, the grey light of dawn along with the sound of bird song was already beginning to penetrate the early morning silence and cool high altitude mountain air. Vehicle traffic outside was virtually non-existent .... even in a huge city like Bogota, but, from the long slow slushing sounds made by sporadic traffic which did occasionally pass down the tidy tree lined street below our apartment during these very early morning hours, it was evident that it had been raining much earlier on. My initial reluctance to get up at such an early hour was quickly overcome by equal motivation to start the necessary preparations in anticipation of the long and hopefully exciting day ahead. I peeled back the closed bedroom curtain .... sufficiently enough to get my first glimpse of the new day and the current weather conditions outside. It was not an encouraging sight. Although it was not raining then .... the thick blanket of low overcast which surrounded the mountain tops near our home promised that more rainfall was definitely forthcoming. This could turn out to be a very disappointing day I thought as I brewed some coffee and continued my preparations anyway. At around 05:00hrs the phone rang .... as prearranged. It was my good Colombian friend and aviation colleague Camilo LUENGAS .... ensuring I was up and ready to roll.
BUENOS DIAS AMIGO/GOOD MORNING MY FRIEND ! .... LISTO ?/READY? was his enthusiastic greeting.
LISTO .... LISTO/READY ! .... I responded affirmatively, wide awake now, and with equal enthusiasm despite my inward concern regarding the outside meteorological evidence.
OK AMIGIO .... LLEGAMOS SON LAS SEIS/OK MY FRIEND .... WE'LL BE OVER (to pick you up) AT SIX !
PREFECTO/PERFECT ! .... I replied .... MUCHISMAS GRACIAS AMIGO/THANKS VERY MUCH MY FRIEND !
Within an hour Camilo had arrived and we were then on our way .... driving through Bogota's suburbs in early dawn light of another new Colombian day. We were the "Bogota A-Team" .... 5 motivated/dedicated/committed and semi-professional aviation photographers, all bundled into the same car, comprising of myself, and Camilo, along with Santiago ESCOBAR, and Andres RAMIREZ, whom we also picked up en-route through Bogota. All of us were special guests of fellow Colombian aviation photographer Javier "TOPPER" FRANCO (one of Colombia's most respected aviation photographers). Our destination .... Villavicencio .... located some 135 miles (as the crow flies .... though it is actually a lot further than this considering the winding nature of the mountain highway which must be traversed in order to get there) southeast of Bogota .... and our mission today .... to photograph classic Colombian aviation and with airside authorizations apparently already approved in advance.
Villavicencio is the capital of Colombia's Meta province. This is one of the last outposts of Colombian civilization located along the eastern outskirts of the countries huge Amazon region. It is also the home of virtually every type of aircraft that is old and still flies .... or has given up life in order to ensure that other old aircraft continue flying. Some of the last of Colombia's once great classic prop liner inventory (now banned by recent government legislation from operating into all major city airports throughout Colombia) may be observed here, along with Russian turboprops, a flight line of the local and commercially operated "avioncitos" (light aircraft), along with some of the worlds latest turboprop and jet airliner technology which has recently entered the Colombian civil and military air registers .... a very unique blend indeed of both classic and modern aviation.
Getting to Villavicencio (economically) requires traveling, by road, through the Cordillera Oriente which shoulders the high altitude plateau upon which the city of Bogota has been developed, to the other side of this formidable mountain range. These impressive mountains are one of two branches of the mighty Cordillera De Los Andes which pass through Colombia. Traveling the route we planned on following to Villavicencio, via this mountain highway, might have been considered "a risky proposition" several years ago due to internal problems within Colombia (las FARC and other paramilitary nuisances/threats opposed to the Colombian government), but which today, may be undertaken "quite safely" thanks to significant improvements in security throughout the Republic of Colombia, and all of which are a direct result of many major and successful reforms recently implemented by the current government of president Alvaro URIBE VELEZ.
The normally 2 to 3 hour drive (depending upon both congestion and driving conditions) to Villavicencio passes through a particularly picturesque landscape of rock and thick bush clad hill and mountain country. The intensely spectacular geography features many kilometers of rugged and naturally sculptured ridges that tower over deep mountain valleys and ravines, some of which appear separated by no more than a few hundred yards to less a kilometer apart .... if that. This impressive terrain is quite different from that of the commonly perceived image of towering snow covered Andean mountain peaks like those that grace Ecuador, Bolivia, Peru, and Chile, but, which are none-the-less equally majestic and form part of the same mountain chain, extending from Tierra Del Fuego, at the southern tip of the South American continent, and on into north eastern Venezuela. Colombia certainly has no shortage of superbly beautiful natural scenery and has, I believe, great potential for tourism .... subject to the success of necessary future government reforms. Today however, the majority of this dramatic scenery, through which we were traveling, was completely obscured by very low cloud and moderate rain which reduced visibility to no more than a few hundred yards, in places, and which prompted among us the following somewhat repetitious joke of the morning .... LOCATION CHECK !!!! .... and which also seemed to threaten the very success of our mission too. These conditions made driving a little more hazardous/testing than normal and despite the fact that Colombian traffic, even in the very best of driving conditions, is generally "HAZARDOUS" .... to say the very least (if one can drive successfully here then one may drive anywhere in the world) .... but ..... this only kept us that much more alert as on we progressed toward Villavicencio, and despite the silent concerns being harbored by each one of us in relation to the obviously still deteriorating weather.
We eventually arrived at Villavicencio (a larger and very much more commercial city rather than the small town which I had imagined it to be) at something in the region of 09:00hrs, but, the curse of the liquid sunshine, which had prevailed all the way from Bogota, persisted still .... and with no obvious signs of abatement. There was considerable surface flooding along most of the main roads, traffic congestion was heavy, and the visibility was terrible. The mountains through which we had just passed could no longer to be seen despite their very close proximity to both the city and airport .... and no matter how hard we strained to see them. God .... we thought, this is not looking particularly good at all .... and we have traveled all this way too .... although none of us actually uttered these sentiments publicly. By now we had probably all quietly resigned ourselves to the possibility that this trip might eventuate to nothing much more than familiarization only .... an experience at best .... rather than a successful exercise in the filming of classic Colombian aviation. We pressed on towards the airport regardless .... leaving behind us, as quickly as possible, the mayhem of the congested and flooded main city streets. Leaving the main road we then entered a lengthy rough stone driveway which was sheltered on either side by towering, fruit laden, and wet mango trees. This path led, not the main thoroughfare to the public buildings of Villavicencio's La Vaguardia Airport, but, toward the headquarters and maintenance compound of ALIANSA COLOMBIA .... one of at least 5 C47/DC3 operators based there.
I do not think I will ever forget my first glimpse of a Colombian C47/DC3 (HK-122) as the aircraft progressively emerged into full view as we approached it from behind the thick line of mango trees which bordered its hangar compound. This aircraft .... resplendent in its clean and highly polished natural metal finish, with blue and yellow fuselage stripping (somewhat resemblant of the late 1950's LUFTHANSA livery) and stylized "ALIANSA" titles, along with another C47/DC3 (HK-2820) parked beside it, were indeed a beautiful sight .... even in the doom and gloom of the outside elements. Neither of these aircraft, or a 3rd partially cannibalized C47/DC3 (HK-3215) sitting under cover nearby were in optimum positions for photography, and nor was the companies office staffed at the time of our arrival, so, with a firm resolve to return later, we continued on, leaving the rough stony driveway to rejoin the main approach road which passed beside the small but well presented La Vanguardia Airport main terminal and control tower buildings, toward the other side of the airport, to join yet another lengthy rough stony driveway that was similarly sheltered by towering, fruit laden, and wet mango trees, and leading toward the hangar workshops and administration facilities of ISOTEC/AIR COLOMBIA .... where were were expected that morning.
A short delay followed our brief communication with ISOTEC staff inside and whilst we awaited a company representative to brave the rain and unlock the gates in order allow our entry. Once inside the company sanctuary we walked in the lee of the hangar which sheltered us from the wet (I was now sure conditions were improving despite the depressingly grey ceiling) and parallel to a small but overgrown field in which sat an engineless Russian AN12 freighter (RA-12980) that had previously been operated by SADELCA COLOMBIA. Behind this aircraft, and in the same field, was an even more forlorn looking and engineless Russian AN2 biplane (HK-3960-X) formerly operated by TAGA COLOMBIA, and which had obviously been sitting unattended for many years given the apparent state of its general exterior deterioration. Well beyond these derelict aircraft, and on the apron of another company located further to the left of the ISOTEC facilities, the partially obscured forward section of an unidentified, engineless, and possibly partially cannibalized AEROLINEAS LLANERAS C47/DC3 could be observed protruding from beyond a hangar.
Derelict SADELCA COLOMBIA AN12 at SKVV: PHOTO - Camilo LUENGAS
Derelict TAGA COLOMBIA AN2 at SKVV: PHOTO - Camilo LUENGAS
Walking around the corner of the ISOTEC hangar, and onto its apron which faced the airports main taxiway and runway, we were suddenly in the presence of an immaculate looking C47/DC3 (HK-1175). This aircraft, parked to the right of the hangar apron, and obviously on standby, appeared resplendent in its highly polished natural metal and dark blue livery with a colorful yellow, blue, and red aft-fuselage roundel/logo featuring a stylized Aguila/Andean Eagle, and "AIR COLOMBIA" titles on its upper fuselage .... another beautiful sight despite the depressingly wet conditions. Well off to the right of the ISOTEC hangar, and back toward the airports main terminal building and control tower, stood the facilities of AEROVANGUARDIA COLOMBIA, outside which another impressive looking C47/DC3 (HK-3199) could be observed in that companies attractive blue and white livery. This aircraft was in company with another natural metal and partially cannibalized sister ship (HK-4292) that was devoid of titles. Sadly .... we could not get near enough to the definitively liveried AEROVANGUARDIA aircraft for decent photography, and nor did we attempt to do so either, simply because we had already been advised that this particular operator was known to be somewhat less co-operative.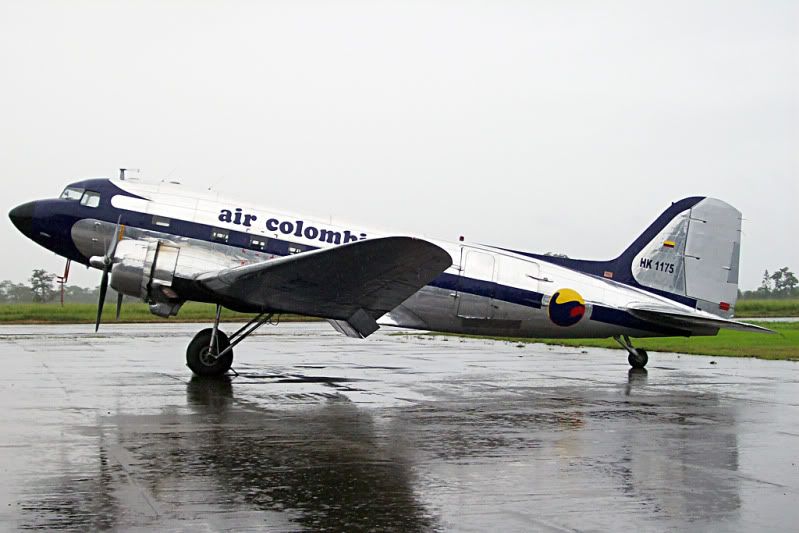 Looking splendid .... even in the wet .... an AIR COLOMBIA DC3 at the companies SKVV maintenance base: PHOTO - Mark CRANSTON
Entering the open doorway of the ISOTEC hangar we were confronted by yet another AIR COLOMBIA C47/DC3 (HK-3992) which was undergoing a major survey/overhaul. Inside the hanger, and beside this aircraft, a partially cannibalized natural metal C47/DC3 fuselage (HK-3359) sat in storage, along with its wings, both of which still supported the "TRANSAMAZONICA COLOMBIA" titles of its former owner/operator.
Stored TRANSAMAZONICA COLOMBIA DC3 inside the AIR COLOMBIA hangar work shops at SKVV: PHOTO - Camilo LUENGAS
Once inside the hangar workshops we were very warmly met by, and introduced to, the senior ISOTECH engineer whom went out his way to make us all welcome, even arranging to have us served hot coffee in his upstairs office. There we also viewed classic prop liner DVD's on his computer, and later shared both travel and aviation related stories and jokes too, as with fingers crossed, we awaited further improvement in the weather. The dedication and commitment to their job displayed by this particular engineer, and his team, was quite obvious. It became very clear that people of this caliber .... clearly passionate about the aircraft they fly and maintain .... are partly why/how companies like ISOTECH/AIR COLOMBIA, and others too, are able to maintain and operate these aging prop liner aircraft so successfully. By the time our meeting concluded .... more than 2 hours later .... it was getting on toward midday. The weather, being well below Villavicencio's prescribed minima, had kept the airport closed since prior to our arrival, but, was now beginning to show very definite signs of improvement, much to the relief of us all, and despite the still depressingly grey overcast, light rain, and still reduced visibility. After our very pleasant office interlude we all trooped back downstairs, to the hangar and apron, in order to become more closely acquainted with the 2 intact/operational C47/DC3 aircraft available. Being allowed to climb aboard both aircraft enabled us to form a very good impression of just how well maintained they actually were. Saying that both of these aircraft were impeccably/spotlessly clean is to understate the obvious in relation their apparently superb condition for aircraft of their age. We also learned that visitors, whom are willing to pay for the privilege of doing so, are apparently welcome to accompany AIR COLOMBIA flights into remote parts of Colombia and aboard these aircraft .... for around $300,000 Colombian Pesos per PAX (roughly $US 150.00). What an incredible experience .... we all thought. I am sure each one of us might have been strongly tempted to do this had operations that day been more abundant and our itinerary maybe less time restricted.
"SUPERB" and "METICULOUSLY CLEAN" both inside and out .... is the only way to describe AIR COLOMBIA's maintenance and DC3 care at SKVV: PHOTO - Camilo LUENGAS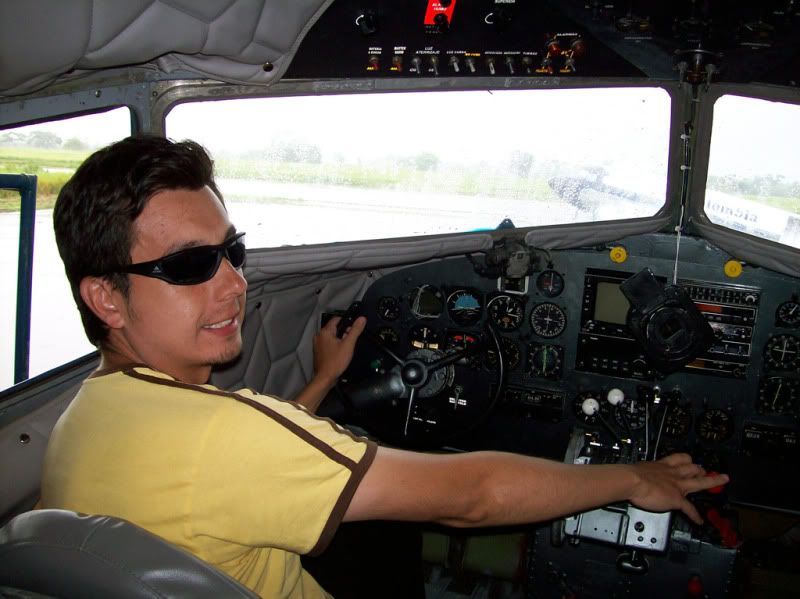 "El Comandante Camilo LUENGAS" .... at the controls of one of AIR COLOMBIA's DC3's at SKVV: PHOTO - Mark CRANSTON
The ISOTEC engineer also explained (if I understood correctly) that each of their individual aircraft underwent a major survey/overhaul upon every 1,000 hours of service, and in addition to whatever preventative maintenance was necessary between this servicing, along with whatever other incidental repairs might be required too. We also learned that a 3rd company C47/DC3, appearing in a different variation of AIR COLOMBIA livery, was expected to return during the afternoon .... and which we would be able to appreciate, equally up close and personal, later that day and if we so wished.
Leaving the ISOTEC/AIR COLOMBIA facilities, we headed back toward the main public buildings of the airport, and over to the office/maintenance facilities of yet another Villavicencio based operator .... SADELCA COLOMBIA .... which operated both C47/DC3 prop liners and Russian AN26 turboprop aircraft. The light rain continued at this time and the airport remained closed as we entered the companies upstairs main office which comprised of its own private and exterior viewing deck (possibly an old/converted terminal building from the very early days). Here we were all once again very well received by the SADELCA duty manager and, after further introductions/pleasantries, we then proceeded outside this office, onto the elevated and sheltered viewing deck outside which overlooked the companies maintenance faculties, along with both the apron and taxiway to the runway threshold .... both of which are situated at very close proximity to the SADELCA building. Parked on the apron here, and slightly to the left of the viewing deck, was one of SADELCA's white and red liveried AN26 turboprops (HK-4356) in company with similarly liveried C47/DC3 prop liner (HK-1149).
SADELCA COLOMBIA AN26 at SKVV: PHOTO - Camilo LUENGAS
Under the sheltered SADELCA maintenance area, which adjoined the right side of the building and viewing deck, sat another of the companies C47/DC3 aircraft (HK-2494) that appeared in a natural metal and red variation of the companies livery, and which was swarming with a small group of engineers going about their trade as they worked on both its engines and propellers.
SADELCA DC3 maintenance at SKVV: PHOTO - Camilo LUENGAS
On a grassy field further to the right of the SADELCA faculties, and adjacent to both the apron and taxi way, sat a partially cannibalized natural metal and blue C47/DC3 (HK-3349), minus its engines and nose cone, and which had once been operated by VIARCO COLOMBIA. Parked beside this DC3 was an unknown and bright yellow liveried Russian AN2 biplane (HK-4632-X) .... that appeared (outwardly) to be in surprisingly good condition for its age and likely prolonged exposure to the lower altitude warmth and humidity of Villavicencio's equatorial/tropical climate. Beyond these 2 aircraft sat a partially cannibalized BN2A-3 TRILANDER (HK-2482) which was formerly operated by TRANSAMAZONICA COLOMBIA .... and that was now almost completely overgrown by the local flora with only its #2 engine mount, tail, and wing tips protruding from the thick bush which concealed it almost entirely from our view.
Derelict VIARCO COLOMBIA DC3 alongside an unknown AN2 at SKVV .... the ex TRANSAMAZONICA BN2A TRISLANDER may be observed shrouded in bush in the far left background: PHOTO - Camilo LUENGAS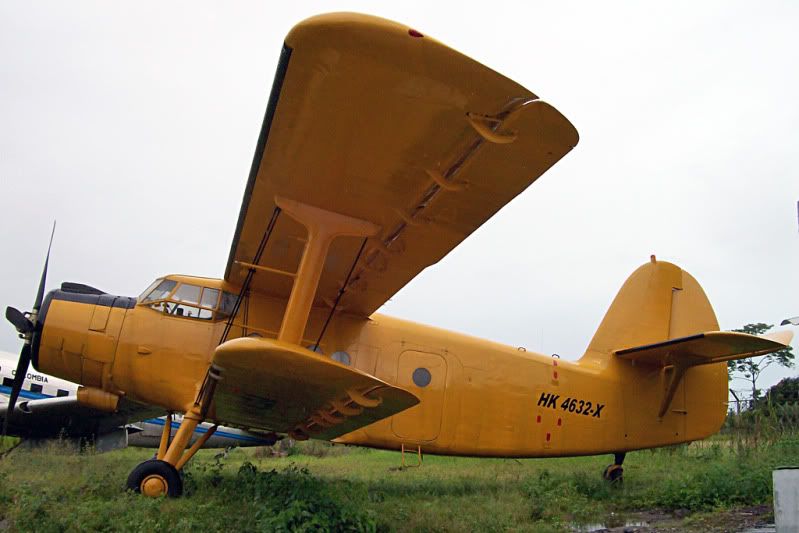 Unknown AN2 at SKVV .... looks to be in basically quite good condition: PHOTO - Mark CRANSTON
Much further down the apron, again to our left, and outside both the main terminal buildings and control tower, a SELVA COLOMBIA AN26 (HK-4356) was parked, in company with a squadron of the local and commercially operated "avioncitos". Yet further down the apron, beyond these aircraft and buildings, the apparently intact but otherwise dilapidated airframe of a once privately owned/operated PBY-6A CATALINA (HK-2115P) could be observed.
The apron at SKVV .... the derelict CATALINA may be observed in the far background: PHOTO - Camilo LUENGAS
By now it was early afternoon. Both the long drive from Bogota, and what had been a busy but very interesting morning at ISOTEC/AIR COLOMBIA, had left us all starting to feel a little "peck-ish". Most of us had not consumed anything since around 04:00-ish that morning. We therefore resolved to seek out some of the culinary delights of Villavicencio's local/cultural fair in order to satisfy our quest for nourishment .... only at this very moment we also received ATC notice that the airport had just been cleared to reopen and operations were about to recommence. Within minutes of this news things started happening .... as "life as we know it" began to return to the apron .... first around those aircraft parked closest to the main PAX terminal, then spreading toward both the SADELCA C47/DC3 and AN26 aircraft parked beside us. "AT LAST" .... we all thought. Despite our growing lust for food and nourishment, a small bag of potato chips each (hardly cultural, cordon bleu, or even sustaining) would have to suffice until a more opportune time, and much later on during the day, for fear of our now missing any of what we had traveled so far to see, film, and enjoy.
The first aircraft cleared to move out that day was the SELVA COLOMBIA AN26. During its take-off roll, it made spectacular progress along the rain saturated runway ahead of a great plume of white spray churned up by its huge propellers and powerful turboprop engines and to the tune of its very loud, high power, base toned prop humm. Subsequent departures, whilst interesting/fascinating, became less and less spectacular as the runway slowly dried out under the still slowly improving weather conditions.
In stark contrast to the departed classic Russian turboprop a SADELCA COLOMBIA DC3 next got underway.
This aircraft was then followed then by a number of the local and commercially operated "avioncitos", along with an AEROLINEAS LLANERAS C47/DC3 (HK-3037 .... that suddenly appeared out of nowhere) and which was cleared to move out immediately ahead of a simultaneously departing SADELCA AN26 .... forming another great contrast between both aircraft generations and technology.
After the departure of both the SADELCA C47/DC3 and AN26, the apron in front of the companies offices was completely devoid of air traffic. We were next authorized to move down onto the apron below, but, instructed to remain within the confines of the SADELCA maintenance area, and to note also, that the apron inspector/supervisor along with the airports private security company would likely exercise final jurisdiction over our "airside" presence .... and with whom we would ultimately have to comply despite whatever authorizations had previously been negotiated. We all trooped downstairs and assembled beneath a wing of the SADELCA C47/DC3 that was being overhauled. At this point we also learned that arrival of the delayed, normally early morning, scheduled services from Bogota, operated by AIRES COLOMBIA, and SATENA COLOMBIA, were both imminent. We passed the time awaiting these arrivals by getting up close and personal with this remaining company C47/DC3. Again the SADELCA maintenance crew welcomed our attention .... they really did seem to appreciate both our presence and interest. Just as we had observed at ISOTEC, both pride and passion were clearly evident in the workmanship of these engineers too. This particular DC3 also appeared in as good a condition as each of the other aircraft we had observed earlier that morning. And they need to be too .... in order to continue successfully performing the vital work they undertake .... servicing remote communities throughout the Republic of Colombia, as well as even more remote military outposts/installations deep within the countries less accessible Amazon region. There is considerable, and a very definite/detectable sense of prestige among most of the Colombian pilots, engineers, and companies whom fly, maintain, and operate the last of these great classic propliner aircraft in our otherwise modern age of advanced hi-tech jetliner equipment.
Well spotted by either Santiago, or Andres, a grey speck in the sky, well to the north of the airport, soon revealed itself to be a DHC8 turboprop in the attractive blue and green livery of AIRES COLOMBIA (HK-4495). Based in Bogota, this airline operates a fleet of DHC8-100/Q200/300 turboprops and B737-700 jetliners on domestic services, linking the Colombian capital with most major cities throughout the republic. This airline has also recently commenced, or is about to commence, international services to the USA. Closely following this AIRES arrival was that of SATENA COLOMBIA .... today operating an EMB 170-100 jetliner (HK-4528/FAC 1180). SATENA is the civil wing of the FUERZA AEREA COLOMBIANA/COLOMBIAN AIR FORCE. It operates a fleet of both twin-engined DO-328-100 and L410 turboprops, along with both EMB 170-100 and EMB ERJ 145 jetliners, which principally service those regions of Colombia which require air services but often lack sufficient PAX traffic to justify frequent/profitable commercial airline operations. Both of these aircraft were a nice catch for us here .... considering that we would not normally have seen them at all had the airport not been closed throughout the morning and these services delayed, considerably, due to the weather. We expected the turnaround times for both of these aircraft to be very short .... and they were too .... with the AIRES DHC8 departing again within 30 minutes, or so, of its arrival. The SATENA EMB 170-100 looked likely to depart with equal efficiency too, but, no sooner had this particular aircraft contacted the tower for its start approval and departure information than 2 representatives from the private company, charged with the security the of Villavicencio's La Vanguardia airport, suddenly appeared beside us. Despite the fact we had adhered .... "to the letter" .... our instructions to remain within the confines of the SADELCA maintenance area, these officials demanded that we should all leave and return land side .... "IMMEDIATELY". We endeavored negotiating an extension of time with them, but, they were adamant. We had no alternative other than to comply with their demands. After all, we had been warned that they had absolute/final jurisdiction over any other previously negotiated access. So, with the SATENA EMB 170-100 having now received its clearances and already beginning to spool-up for departure, we returned land side .... disappointed .... but .... grateful for having been able to record what had seen from this air side vantage.
The delayed AIRES DHC8-Q300 HK-4495 departing SKVV: PHOTO - Camilo LUENGAS
The delayed arrival of SATENA EMB 170-100 HK-4528/FAC 1180 at SKVV: PHOTO - Andres RAMIREZ
Personally, I got the distinct impression that they (security) were possibly baiting us for a "propina/tip". Money talks all languages and can achieve most things here .... depending upon the integrity of those whom one negotiates with in order to secure such "under the table" privileges. This is common everywhere within Latin America, and is how a lot of business is actually transacted, but, it should not be considered the standard. Should one try this stunt with the wrong sort of person (someone of integrity) then one maybe risks ending up in a prospectively very bad situation indeed .... the particular problem here being that one never really can be certain regarding the make up of whomever one is dealing with. We probably all considered, silently, passing the hat around, but then, knowing this SATENA departure was likely to be among the very last of the major traffic movements on the airport that afternoon, it would have been foolish of us to offer any "propina" at all. It simply was not worth it. Everything else we had targeted to film that day could be achieved, easily, and with equal success, from other, if not better, vantages around the airport .... and without concerning ourselves regarding the possibility of stepping on the sensitive toes of security. I learned later that the security companies discomfort regarding our airside presence was possibly, and perhaps understandably, motivated by recent concerns regarding narco-trafficking in the area. Apparently the airport at Villavicencio (being isolated from any of Colombia's principal cities and located uncomfortably close to the jungle region where much of countries narcotics have been cultivated) has had more than its fair share of exposure to this global scourge that has, unfortunately, resulted in the illicit drugs trade, and which has also resulted in this one and only major blight against Colombia's otherwise impeccable international reputation over the past 4 decades. The government of president Alvaro URIBE VELEZ is actually one of the countries first to endeavor to deal with this problem seriously .... hence the implementation of many of Colombia's recent adopted and new security reforms.
We left the SADELCA premises and decided to make our way back to the headquarters and hangar compound of ALIANSA COLOMBIA .... where we had first arrived earlier that morning. Our return there could not have been better/more appropriately timed as the propellers on one companies C47/DC3 (HK-122) aircraft began turning .... spluttering/coughing into life with a classic show of white piston radial engine smoke emanating from its nacelle exhaust pipes during the first several revolutions of its propeller blades. A quick call to the now staffed ALIANSA headquarters resulted in the gates immediately being thrown wide open for us. We literally charged on in to establish a photo line inside the compound and beside the now pounding aircraft in anticipation of its departure. As this C47/DC3 began to taxi past us, under the now brilliant sunshine, and along the now almost completely dry earth, the wash of its propellers churned up clouds of dust and light debris behind the aircraft as it taxied past us, amid waves from the open flight deck windows and a flight crew obviously very appreciative of our attention and interest in their operation.
At last .... it was time to eat. Invited to return later to the ALIANSA headquarters, if we so desired, we left the hangar compound expressing our grateful thanks to the company attendant for his prompt and kind assistance .... and headed for the center Villavicencio. Practically dead from both hunger and thirst we discovered the downtown Hotel Rosada, whom were more than content to offer us lunch .... even at around 15:00hrs that afternoon. The weather continued improving during lunch. Having nourished ourselves thoroughly we were all now feeling a lot more refreshed. We made out way back to the airport at around 16:30hrs. The low ceiling and reduced visibility which had completely obscured the mountains which shoulder Villavicencio had now completely evaporated. For the first time that day we were now able to see/marvel at the impressive rock and thick bush clad terrain of the Cordillera Oriente .... now viewed from the east .... and through which we had traveled, almost blindly, during our morning drive from Bogota. The city streets were now dry and had become even more congested and noisy. The sky was blue, and the sunshine was now even more brilliant than ever as the air temperature also began to warm up quite considerably after the cooling effect of the mornings rain.
Our first port of call upon arrival back at the airport was to revisit the hangar compound of ALIANSA. Welcomed as enthusiastically as before by the same attendant, we swarmed around the companies remaining operational C47/DC3 (HK-2820) .... like bears around a honey pot. This aircraft appeared resplendent in its natural metal and blue livery (a different variation of ALIANSA livery than that supported by its sister ship which had departed earlier that afternoon) illuminated by the late afternoon sunshine and sheltered by a backdrop of surrounding, fruit laden, now dry, mango trees which towered over the compound.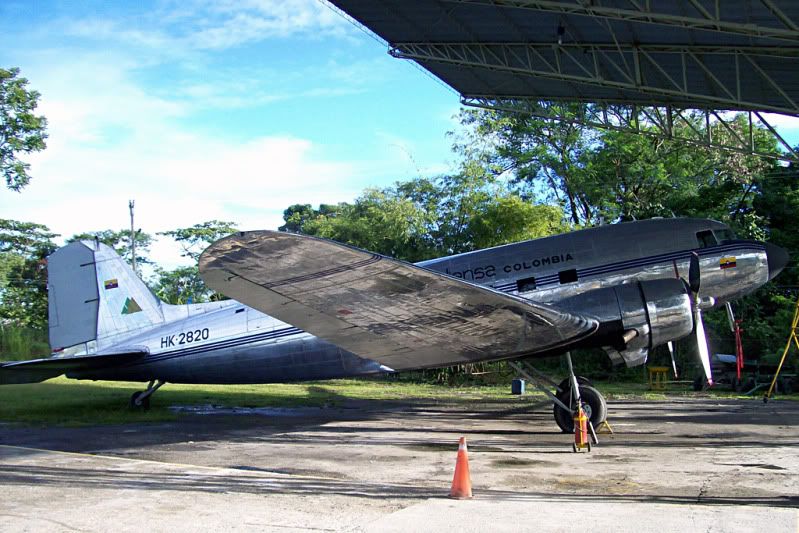 ALIANSA COLOMBIA DC3 at the companies base at SKVV: PHOTO - Camilo LUENGAS
There is always at least 1 comedian within any group. We certainly had one in ours .... a great guy whom rejoiced in the name of Andres "EL COMICO" RAMIREZ. This guy, also a pilot in training, is definitely the life of any party. ALIANSA quite obviously had a comedian within their organization too .... because it was during this revisit to their hangar compound that Javier "TOPPER" pointed out to me one of the most hilarious sights I have yet seen in Colombian transport. Parked inside the hangar compound was a Land Rover Santana, obviously belonging to either the company, or, one of its employees. This particular vehicle, only in slightly better condition than some of the old derelict aircraft we had observed earlier during the day, lacked a standard automobile speedometer. An ingenious Colombian engineer had therefore installed it with a surplus DC3 airspeed indicator instead .... apparently still functional .... and calibrated for unlikely/unobtainable Land Rover speeds of between 250-300 MPH.
ALIANSA Landrover Santana .... complete with DC3 airspeed indicator/speedometer: PHOTO - Camilo LUENGAS
The interior of this Land Rover Santana also appeared to have been stripped of everything non-essential to its actually being able to still work. The owner, whoever he was, quite obviously had a marvelous and brilliantly basic philosophy in life .... "keep things simple and functional". Inside this vehicle a plastic 7-UP bottle suspended from the roof also caught my eye .... along with a number of tubes and wires which protruded from it. This was apparently the Land Rover's fuel tank. Upon seeing the speedometer/airspeed indicator first .... and then "THIS" .... I just about pissed my pants laughing. In fact I was still laughing when we bid farewell, once again, to the same highly co-operative ALIANSA attendant some several minutes later. Appreciating precisely what it was that amused us so much caused him to grin like a Cheshire cat too.
We then decided to pay a final visit back to the apron and hangar facilities of ISOTEC/AIR COLOMBIA. By now the time was was getting on toward 17:00hrs. The senior engineer whom had received us so well earlier that morning had retired home for the day/long weekend, but, we were equally well received onto the premises once again by one of his remaining aircraft maintenance staff. The companies 3rd operational C47/DC3 (HK-3293) had arrived, as expected, and somewhat in advance of our own return. It was in the process of being thoroughly cleaned .... both inside and out .... as we stepped onto the hangar apron. With 2 immaculate looking C47/Dc3 aircraft now parked together on the apron, facing each other, and gleaming in the now absolutely brilliant late afternoon sunshine, very few, if any, motivated/dedicated/committed aviation photographers would sacrifice such a fantastic and rare opportunity. Therefore .... over the next 20 minutes, or so, the ISOTEC/AIR COLOMBIA hangar apron literally bristled with an impressive and sophisticated arsenal of advanced/hi-tech electronic photographic equipment at the hands of 5 semi-professional aviation photographers whom began filming like it would be out of fashion with the coming of the next dawn.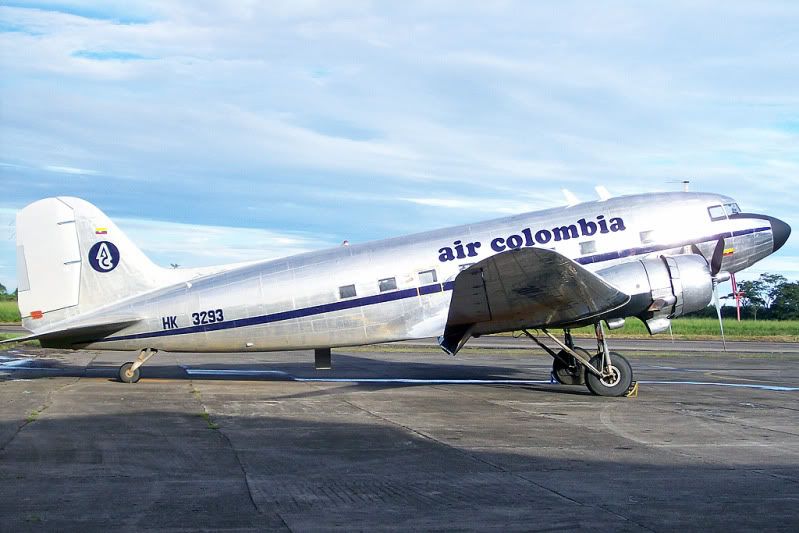 Basking in the late afternoon sunshine .... AIR COLOMBIA's 3rd DC3 at the companies SKVV maintenance base: PHOTO - Camilo LUENGAS
During the 1980's someone once wrote .... "Colombian aircraft maintenance standards often leave a lot to be desired". This might have been true of that particular period, and may indeed have applied to any number of rogue operators when these classic piston radial powered aircraft were in much greater abundance, but, I feel I can state with reasonable confidence, that each of the 3 operations with whom we became closely acquainted that day, appeared to demonstrate particularly high standards of aircraft engineering/maintenance .... given both the age of the aircraft they were operating and likely difficulties associated with the sourcing of some replacement parts. I have to assume that most of these operators are capable of remanufacturing some (hard/impossible to source) parts and in accordance with the original manufacturers specifications. It also surprised me to learn that Villavicencio is apparently host to a specialist piston radial engine overhaul/engineering facility .... which frequently undertakes work on these and other old aircraft within Colombia, the Latin American region, and overseas too.
All good things must eventually come to an end .... and the great experiences/opportunities of this day were no exception. It was in the vicinity of 18:00hrs by the time we finished filming both AIR COLOMBIA C47/DC3 aircraft. Time to start heading back. Confronted with the prospect of another 3 hour drive in order to return home to Bogota that evening, we all cringed at the thought of the totally unpredictable traffic congestion (typical of anywhere within Colombia) that might confront us en-route. The sooner we got underway the better .... we all agreed.
We left Villavicencio at around 18:30hrs .... retracing our route, westward this time and in the slowly fading light, across the same mountain highway through which we had passed early that morning .... and in far less congestion than we had actually anticipated. Prior to darkness descending upon us completely we were finally able to appreciate some the dramatic landscape, deep within these mountains, and which had been shrouded out of sight during our drive through the appalling morning weather. We made good time en-route and emerged from the mountains .... on the western side of the Cordillera Oriente .... some 2 1/2 hours later. The huge city of Bogota was ablaze with an infinity of lights from north to south and east to west .... sparkling/shimmering like phosphorous jewels set upon a large patch of black velvet and with their glows illuminating the overcast sky above. The distant mountains of the Cordillera Occidente appeared silhouetted against the glow of these city lights and the partially illuminated western skyline. The cool high altitude mountain air felt particularly refreshing after the late afternoon warmth of Villavicencio's equatorial/tropical climate. By 21:00 hrs the "Bogota A-Team" were all safely back home, dog tired after the long and exciting day, but, more than content with what had been achieved, and especially grateful of all the invaluable assistance provided by our host .... fellow Colombian aviation photographer Javier "TOPPER" FRANCO.
The "Bogota A-Team" .... L to R .... Santiago ESCOBAR, Andres RAMIREZ, Camilo LUENGAS, Mark CRANSTON, and Javier "Topper" FRANCO: PHOTO - Javier FRANCOBy Mark R.CRANSTON
Auckland, New Zealand
&
Bogota DC, Republica de Colombia
2009
ADDENDA: In my personal opinion, the general state of internal security throughout the Republic of Colombia has improved dramatically over the past several years (2009), but, as is the case when traveling anywhere overseas "CAUTION" should always be exercised of course. Folk contemplating visiting Colombia for the purpose of aviation photography need to realize that this task is not so easily accomplished there as it may be in other countries, and usually requires one first being introduced, specifically, to el Departemento de Civil Aeronautica, or, other appropriate on-airport security authorities .... with authorization/access then being properly negotiated accordingly (which can still guarantee "NOTHING" though) .... and for which one really requires both "reliable personal contacts" and/or "a reasonable knowledge of the Spanish language".
Mark C
BOG/CO