Post by aerofoto - HJG Admin on Jun 5, 2007 5:03:53 GMT
AIR NEW ZEALAND DC-8 DIGEST
In comparison with other major airlines around the world, New Zealands's national carrier AIR NEW ZEALAND (formerly TEAL) entered the jet age considerably later than most. In Great Britain BOAC COMET 1's inaugurated the worlds first commercial jet air services during May 1952 followed by COMET 4's which began flying the first scheduled trans-Atlantic jet services to the USA and most dominion countries from 1958, whilst in Australia B707-138's began entering QANTAS Airways service from August 1959.
Tasman Empire Airways Limited (TEAL) was formed during August 1939 and commenced services between Auckland and Sydney on April 30th 1940 operating 2 SHORT S30 EMPIRE flying-boats. These were replaced with 4 SHORT S25-5 SANDRINGHAM flying-boats from July 17th 1946, but, proving unsatisfactory they were withdrawn from service within 2 years. These aircraft were then replaced with 4 SHORT S45 SOLENT 3 flying boats from September 29th 1949, and a single SHORT S45-A SOLENT 4 flying-boat delivered to the airline on November 14th 1949. TEAL also operated a single PBY CATALINA PB2B-1 flying-boat which was employed primarily for crew training and survey flights throughout the Pacific region until 1949. Over 2 decades the TEAL flying-boats operated supply and reconnaissance flights throughout the Pacific region during World War 2, maintained an air link between New Zealand and remote Chatham Island until April 7th 1954, flew trans-Tasman PAX services between New Zealand and Australia until May 15th 1954, and inaugurated the airlines famous "Coral Route" linking Auckland with the Cook Islands (Aitutaki), Fiji, Samoa, and Tahiti from December 27th 1951 until September 15th 1960. During October 1953 TEAL acquired 3 DC6 prop-liners inherited through the demise of BCPA and these entered service with the airline on May 14th 1954 to become the airlines first land based aircraft. The airline then entered the turbine era when the first of 5 new L188 ELECTRA turb-props were delivered from November 19th 1959. On April 1st 1965 TEAL was renamed "AIR NEW ZEALAND".
Government policy had kept TEAL on the water far longer than most water-borne airlines around the world and despite the airline recognizing that the move to land based aircraft .... jet equipment in particular .... was imperative for it to remain competitive even within its then small sphere of trans-Tasman and South Pacific regional influence. TEAL initially favoured the COMET 4 jetliners .... the types reputation having being redeemed through BOAC's successful reintroduction of the type from October 1958. It was also aware that BOAC planned to withdraw its COMET fleet from service during the mid 1960's. The availability of these aircraft therefore coincided with the airlines anticipated jetliner needs. The colonial "Buy British" political mentality of the era was undoubtedly a strong motivating factor behind TEAL considering COMET 4's, however, careful forward planning soon hilited need for a much larger and more capable jetliner. Presentations of the B707, CV990, and VC10 were made to TEAL by their respective manufacturers and each of these prospective aircraft was carefully studied. At the time it was also globally recognized that Douglas Aircraft Corporation represented the last word in civil aircraft engineering .... more so than Boeing and its British competition. TEAL already operated DC6's .... with which it was well satisfied .... and this placed Douglas in a more advantageous position to negotiate in respect of re-equipment in its line of jetliners. It was against this backdrop that negotiations commenced between TEAL and Douglas during the early 1960's which resulted in the airline signing a contract on September 23rd 1963 for the purchase 3 DC8-52's for delivery during 1965. These 3 new jetliners were destined to become ZK-NZA (# 45750), ZK-NZB (# 45751), and ZK-NZC (# 45752). They would transform the airlines image and usher New Zealand into the age of the modern international jet air transport.
Air New Zealand's first DC8-52 ZK-NZA performed its maiden flight from Long Beach California on February 14th 1965. It was delivered to the airline on July 20th 1965. The 6510 mile non-stop delivery flight to Auckland was completed in 13 hours 32 minutes. The arrival in New Zealand of ZK-NZA was then closely followed by sister ships ZK-NZB on August 12th 1965, and ZK-NZC on September 22nd 1965. Each of Air New Zealand's DC8-52's had a fuselage length of 150ft 6in, wingspan of 142ft 5in, capacity for 129 PAX in a dual First/Economy Class configuration. These aircraft had a MTOW of 305,000lbs, range of some 5,375nm (depending upon payload and reserves), and were powered by 4 P&W JT3D-3B fan-jet engines rated at 18,000lb/st e/a. Each aircraft was certified for "Pod Pak" operations (5th pod/carriage of a spare engine) .... an unusual configuration which was occasionally exploited by the airline when circumstances arose that required a replacement engine being ferried to a stricken/stranded aircraft overseas. All Air New Zealand DC8's were initially flown by 4-man crews which comprised of a captain, F/O, F/E, and navigator. The navigators were dispensed with from the early 1970's and at which time these aircraft were all equipped with Dual Doppler Navigation Systems.
The airlines first 3 DC8's were delivered in a hybrid livery featuring dual "TEAL/AIR NEW ZEALAND" titles which were employed fleet-wide during transition from the old to new corporate brands. Air New Zealand's DC8 jetliners were the source of tremendous pride for both the airline and the nation generally. Prior to their service entry one aircraft was opened for inspection at Auckland International Airport on October 2nd 1965 by an enthusiastic public eager for a closer look the airlines brand new fleet acquisitions. On October 3rd 1965 Air New Zealand operated it's first ever DC8 jet service between Christchurch and Melbourne, and on November 24th 1965 flew its first scheduled services through the new Auckland International Airport at Mangere .... an L188 flight to Fiji, and a DC8 service to Sydney .... though the airport was not officially opened until January 29th 1966.
This was a time of major expansion for Air New Zealand. The longer ranging DC8's promoted services to new and exotic destinations abroad along with significantly reduced traveling times. These new services were often (unusually by today's standards) preceded by "non-commercial route proving/promotional flights" in advance of the commencement of scheduled services along such routes. The first of such flights operated between Auckland and Los Angeles on December 10th 1965. Air New Zealand's DC8's then began operating a twice weekly scheduled service to Los Angeles (via Nandi and Honolulu) on December 14th 1965. Similar promotional flights were also operated to the Orient during February 1966 .... first to Hong Kong on February 15th, then to Singapore on February 24th. Scheduled Air New Zealand DC8 services to Hong Kong (via Sydney and Manila) then commenced on March 3rd 1966, followed by Singapore (via Sydney) on April 6th 1966.
Disaster occurred on the afternoon of July 4th 1966. DC8 ZK-NZB (having accumulated only 2,275 hrs total flying time since delivery) was written-off during a training flight at Auckland International Airport. The aircraft was performing a series of touch and go landings during which simulated failed engine procedures were being rehearsed. The accident occurred as the check captain rapidly retarded the # 4 engine throttle moments after lift-off .... generated inertial forces then suddenly caused the associated thrust brake lever to rise and enter the reverse idle detent. With insufficient altitude and only minimum control airspeed available immediately after rotation, recovery action was impossible before the aircraft banked and side slipped uncontrollably, impacting the ground about its starboard wingtip, then cartwheeling and disintegrating for several hundred yards along the main taxiway and before a terminal full of shocked witnesses. 2 of the 5-man crew aboard the aircraft were killed in the accident .... which also hilited a potentially fatal flaw with the DC8 throttle system which had not previously been encountered during developmental/flight testing of the aircraft.
DC8's relaunched Air Air New Zealand flights to Tahiti on November 5th 1967 after a 2 year suspension of services to French Polynesia. This service was operated as first stage of a 3rd new weekly frequency to Los Angeles. An additional 2 factory fresh DC8-52's were purchased by Air New Zealand during 1968. These new aircraft became ZK-NZD (# 45932) which was delivered on January 29th 1968, and ZK-NZE (# 45985) delivered on February 28th 1968 .... increasing the airlines DC8 fleet strength to 4 aircraft. Both were delivered featuring Air New Zealand's definitive "Five Star Jet" livery of the late 1960's and early 1970's era. These new aircraft retained the same PAX/cabin configuration of their preceding sister ships but were also powered by slightly higher performance P&W JT3D-3B-D1 type fanjet engines.
September 11th 1968 marked the 40th anniversary of the first crossing of the Tasman Sea by Australian pioneer aviator Sir Charles KINGSFORD-SMITH ("SMITHY") in a FOKKER TRIMOTOR aircraft named "SOUTHERN CROSS". In commemoration of this famous event Mr T.H.McWILLIAMS (SMITHY's radio operator from that epic flight) was carried as a VIP PAX aboard a scheduled Air New Zealand Auckland/Sydney DC8 service. This flight was commanded by Captain R.McWILLIAMS .... son of the VIP PAX.
From May 27th until September 20th 1969 DC8-52 ZK-NZA was leased to KLM Royal Dutch Airlines where it operated in a hybrid scheme comprising of Air New Zealand tail livery with KLM fuselage stripping and titles. In KLM service this aircraft became PH-ADA and was named "Antony FOKKER".
On April 17th 1970 PAX aboard a Nadi/Auckland bound Air New Zealand DC8 service were treated to what was later described as being "the sight of a lifetime" .... witnessing the re-entry fireball created by the Command and Service Module of APOLLO 13 as it successfully re-entered the earths atmosphere over the Pacific Ocean and during the pre-dawn light upon the conclusion of its aborted/trouble plagued NASA moon-landing mission.
A 5th DC8-52 was delivered to Air New Zealand during November 1970. This particular aircraft was leased from United Airlines and became ZK-NZF (ex N8036U # 45303). The aircraft did not enter service until December 14th 1970 and was eventually purchased by the airline on July 9th 1971. Air New Zealand DC8's began operating Auckland/Melbourne services from July 1st 1970, then Christchurch/Melbourne from July 4th 1970. From April 1st 1971 the airlines frequency to Los Angeles was increased to 4 services each week with the introduction of a 2nd flight via Honolulu. Air New Zealand's 6th and final DC8-52 was also purchased from United Airlines on October 21st 1971. It became ZK-NZG (ex N8034U # 45301) and entered service with the airline on November 29th 1971. The airlines frequency to the US west coast was further increased during November 1971, then again from January 1972, with DC8's operating additional Auckland/Nandi/Honolulu and Auckland/Tahiti services to Los Angeles. Air New Zealand's final L188 ELECTRA service operated on May 30th 1972. These turboprop aircraft were succeeded by the DC8's which then commenced international flights through Wellington from June 1st 1972, linking the New Zealand capital with Sydney, Brisbane, and Melbourne. The airlines DC8's also continued operating all QANTAS Airways services through Wellington under a code-share agreement until the Australian airline introduced B747-SP aircraft to the route from December 1981.
Air New Zealand entered the wide-body era on January 27th 1973 with the delivery of the first of 8 new DC10-30's. Prior its commitment to DC10's the airline had been considering re-equipping with DC8 Super 61, -62, -63, or wide-body L1011 TRISTAR aircraft. The DC10's also introduced the airlines new corporate identity of the 1970's, featuring the Maori "Koru" tail logo, with fuselage/tail stripping in a style representative of the Polynesian voyaging canoes from pre-European times with their tall stern posts. The first of the airlines 6 DC8's were repainted into this new livery during May 1973 with conversion of the remainder of the fleet being completed prior to the end of 1973. It was during this time that all Air New Zealand DC8 aircraft were also equipped with tail logo night lighting .... the airlines DC8's being among the few of the type to be equipped with this particular feature.
From December 2nd 1973 DC8's began operating Air New Zealand's Auckland/Rarotonga services direct, and on December 4th 1973 reopened the airlines new "Coral Route" .... linking Auckland, Nandi, Pago Pago, Rarotonga, and Tahiti. The original "Coral Route" having been operated by TEAL flying-boats between 1951 and 1960.
New Zealand's South Island city of Christchurch successfully bid to host the 10th British Commonwealth Games during early 1974. Air New Zealand was awarded official carrier status for the games. During the year leading up to this prestigious sporting event the airlines entire DC8 and DC10 fleet supported decals featuring the official games logo and legend reading "Official Airline To The Xth British Commonwealth Games 1974 Christchurch New Zealand", accompanied by the stylized "NZ" games logo which was positioned on the lower forward fuselage of each aircraft. Members of the British royal family traveled on Air New Zealand DC8 ZK-NZC, between Rarotonga, in the Cook Islands, and Christchurch, on January 30th 1974, to officially close the games. On this occasion HM Queen Elizabeth 2 was accompanied by HRH Princess Anne, and Captain Mark PHILLIPS. The royal charter was commanded by Captain Ross JOHNSON. From March 1974 most Air New Zealand flights to Rarotonga, Tahiti, and American Samoa became direct services from Auckland rather than multi-staged flights through the Pacific region. DC8's also introduced Christchurch/Wellington/Nandi services from May 3Oth 1974.
On the evening of September 21st 1975, Air New Zealand DC-8 ZK-NZC, under the command of captain Don NICOLLS, was involved in a potentially dangerous incident during its approach into Wellington International Airport .... an event which has since become known as "The Newlands Beacon Incident". The aircraft was operating a scheduled Christchurch/Nandi (via Wellington) service .... and the crew flying a routine twin-locator/NDB approach into Wellington at the time of this event. Other than intercepting the Newlands beacon somewhat prior to their expectation, then compensating for this by increasing the aircrafts ROD, everything appeared quite normal throughout this approach .... until the aircraft broke cloud and the crew discovered .... to their sudden alarm .... that the aircraft was within hundreds of feet from ploughing into residential housing within the Wellington suburb of Newlands (the aircraft was apparently so low that news head lines the following day read .... "We Thought It Was Going To Fly Through Our Ranch Sliders"). Power was applied immediately .... the approach aborted ... and a 2nd, and this time successful radar co-ordinated approach then commenced without further incident, and with the service then later continuing on to Nandi later and as scheduled following pre-departure ground inspections having determined no problems in relation to any of the aircraft's onboard equipment. What followed later resulted in this incident being as badly handled by the airline as it was also by the NZCAD .... at the time. Wellington ATC had, for some time previously, been in receipt of a considerable number of reports from pilots in regard to problems associated with the Newlands beacon. Concerns had also having been vocalized by Newlands residents too, in regard to their safety concerning low flying aircraft over their suburb, but, having been "verbalized only", neither previously vocalized aircrew reports, nor publicly vocalized concerns either, had ever been "formally directed" to the NZCAD, and which resulted in these matters never being adequately addressed .... prior to this particular Air New Zealand DC-8 event. Upon investigation, by the NZCAD, it was determined, and much to the surprise/concern of all parties, that signals emanating from the Newlands beacon, were in fact being ghosted/transmitted by power cables for a considerable distance north of the beacons location .... therefore resulting in false navigation fixes/indications aboard aircraft approaching Wellington from the north and using this particular navigational aid .... as was then confirmed to have been the case in this particular DC-8 incident. The DC-8 crew "were not responsible" for events leading up to the Newlands beacon incident .... but sadly .... the captain was non-the-less subjected to disciplinary action and demoted to F/O as a result of this event, and to add further insult to injury, he was also then "forced" to undergo a year of re-training" (having originally been one of the airlines DC-8 check and training captains) .... all of which resulted in his eventual resignation from the airline. Some 30 years were to pass before Air New Zealand, by this time under the direction of CEO Rob FYFE, "formally apologized" to the captain (much to his gratitude .... albeit far too late to make any professional difference) for the manner in which the airline had handled this particular affair in accordance with the corporate culture of the time.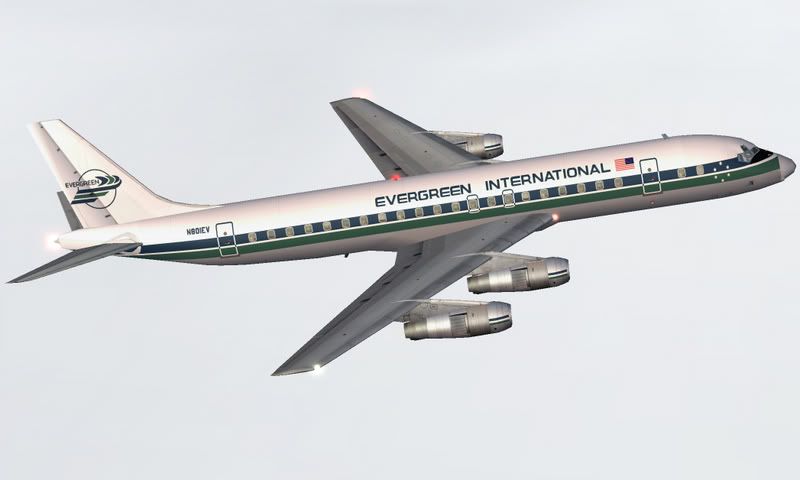 As more DC10's entered service with Air New Zealand the inevitable and progressive disposal of the airlines DC8 fleet was commenced from 1976. DC8-52 ZK-NZF was sold to McDonnell-Douglas on March 25th 1976 for onward lease to Cyprus Airways. This particular aircraft became N99862 (the registration 5B-CAC was previously allocated to this particular aircraft but not taken up) and was later damaged in the gun battle at Nicosia Airport of February 19th/20th 1978. It was returned to McDonnell-Douglas for repair and later sold to Evergreen International Airways where it became N804EV. On September 27th 1976 DC8-52 ZK-NZG was also sold to Evergreen International and became N800EV, followed by DC8-52 ZK-NZA which was sold on January 14th 1977 to join Evergreen as N801EV. All 3 of these ex Air New Zealand DC8's served the remainder of their economic lives with Evergreen International Airways until their withdrawal from service and scrapping during the 1990's.
The airlines 3 remaining DC8's commenced Auckland/Rarotonga/Honolulu services from June 4th 1977 .... increasing the frequency of Air New Zealand flights to US territories to 10 services each week. On April 1st 1978 Air New Zealand and New Zealand National Airways Corporation (NZNAC) were finally merged after several years of heated political debate. At the time of this merger the combined/new Air New Zealand fleet then comprised of 8 DC10-30, 3 DC8-52, 9 B737-200, 13 F27-100, and 4 F27-500 aircraft. From this time most trans-Tasman and Pacific regional services from both Auckland and Christchurch were operated by the airlines DC10's and B737's. The DC8's were then primarily relegated to maintaining international services between Wellington and the principal Australian cities, and to operating some peak domestic flights between Auckland and Wellington.
The FAA worldwide grounding of DC10's from June 7th until July 14th 1979 (following the American Airlines DC10 disaster at Chicago on May 25th 1979) imposed severe disruption to the services of all DC10 operators worldwide. Air New Zealand was particularly hard hit with its long haul fleet consequently being reduced from a fleet strength of 8 DC10-30's to just 2 DC8-52's (1 DC8 aircraft was already out of service prior to the onset of this crisis undergoing heavy maintenance at Auckland) and with which the airline struggled to maintain its international route network. This crisis was further escalated on June 10th 1979 when Air New Zealand DC8 ZK-NZD was damaged as the result of an axle/truck failure and tire blowout incident upon departure from Honolulu .... suddenly reducing the airlines medium/long haul fleet strength to just a single DC8-52. During this incident the aircraft's starboard main gear tires were stripped to their bare metal rims, with debris from the ruptured tires puncturing both the starboard wing and tanks, which resulted in substantial fuel leakage within close proximity of what remained of the aircraft's already white-hot starboard main gear leg and truck posing the risk of fire and potential explosion. The T/O was successfully aborted, and the aircraft evacuated on the runway at Honolulu, without any casualties among its entire PAX and crew. The DC8 was promptly repaired then returned to service within a few days.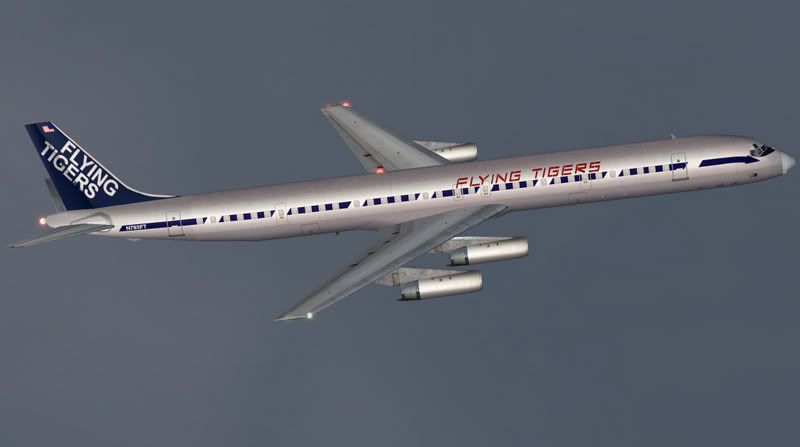 Throughout the duration of the DC10 grounding Air New Zealand air freight services, between Auckland and Los Angeles, were maintained by a series of DC8-63F charters operated by Flying Tigers. A series of PAX services between Auckland and Los Angeles were also flown by a chartered PAN AM B747-100 in order to further address the airlines increasing PAX/freight backlog on this prestigious route. Some services between Auckland and Australia's principle eastern seaboard ports were similarly flown by B747-200B aircraft chartered from QANTAS AIRWAYS .... with additional services to Australia also being operated by 2 of the airlines B737-200's that were configured for over water type operations .... and which also serviced some of the airlines medium range Pacific Islands destinations from Auckland. During this crisis the overflow of PAX backlogs was also promptly cleared through re-booking Air New Zealand PAX on other carriers that serviced both Auckland and Christchurch and which were unaffected by the DC10 grounding. A World Airways DC10-30CF was also chartered by Air New Zealand to further address the ongoing impact of PAX and freight backlogs following the FAA imposed worldwide DC10 grounding finally being lifted.
A new Air New Zealand Auckland/Tokyo service was launched (via Nandi) on August 1st 1980. The airlines DC8's were re-equipped with Omega navigation systems and operated this route for the first 6 months of service before being replaced by DC10's which then commenced flying the route direct. A regular trans-Pacific DC8 freighter service was also introduced between Auckland and Los Angeles from August 4th 1980 .... again using DC8-63F aircraft chartered from Flying Tigers.
DC8-52 ZK-NZD was temporarily withdrawn from service during February 1981 for conversion to pure freighter by McDonnell-Douglas at Tulsa Oklahoma. This aircraft was then redelivered to Air New Zealand as a DC8-54F on October 8th 1981. Upon its re-entry to service, as a pure freighter, the aircraft supported a hybrid livery composed of the airlines early 1980's introduced fuselage striping with "AIR NEW ZEALAND CARGO" and "EXPORT" titles and logo .... whilst also retaining the airlines 1970's era Maori/Pacific canoe stern post styled tail livery ....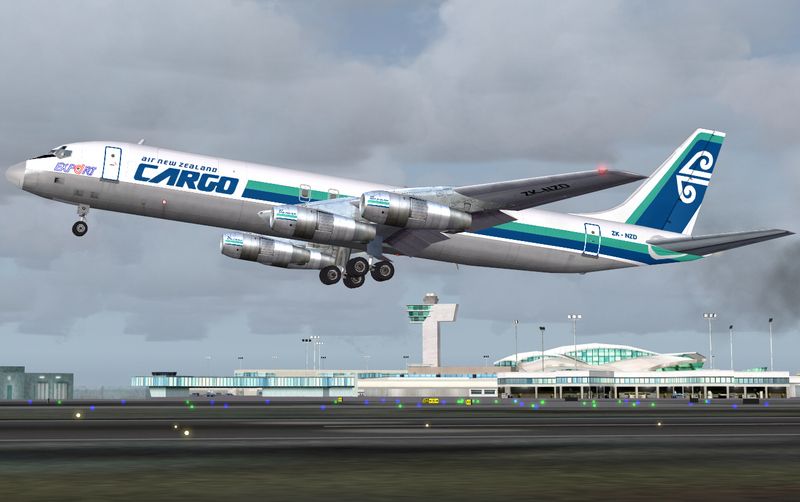 .... and which was later modified in accordance the airlines definitive early 1980's era livery by 1983 ....
During the tough economic climate of the 1980's the airlines DC8 freighter was for a time the only aircraft of the Air New Zealand the fleet actually recording a profit.
A further 2 royal charters were operated by Air New Zealand during October 1981. On October 13th HM Queen Elizabeth 2, and HRH Duke of Edinburgh were flown from Adelaide to Christchurch by DC8 for the commencement of their royal tour of New Zealand. The royal entourage again flew by DC8 from Auckland to Perth on October 20th upon the conclusion of their tour. Both royal charters were commanded by Captain Fred DOUGLAS. 1981 also witnessed the disposal of the first of the airlines 7 remaining DC10's (1 aircraft had been written-off as the result of a tragic accident during a sight-seeing flight in Antarctica on November 28th 1979). The first of 5 new B747-200B's were delivered to Air New Zealand from May 29th 1981. On December 15th 1981 ZK-NZE operated Air New Zealand's final DC8 PAX service between Melbourne and Wellington. This last flight was commanded by Captain Kieth WALSH. The airlines 2 remaining DC8-52's (ZK-NZC and ZK-NZE) were then withdrawn from service and stored at Marana Air Park Arizona to await their fate. Both aircraft languished in the desert for some considerable period before being reactivated and pressed into service with foreign operators.
During 1988 ex ZK-NZE became C-FNZE and the sole fleet of short-lived Canadian tourist charter airline Points Of Call.
This particular aircraft was then later converted to pure freighter and operated by Colombian air freight carrier Lineas Aereas Del Caribe (LAC) as HK-3842-X until its withdrawal from service and scrapping during the late 1990's.
Ex ZK-NZC first became C-FCRN with Crown Air during 1989.
In 1991 it was converted to a freighter then acquired by Faucett Aviacion of Peru. In Faucett service this aircraft became OB-1421 and operated by the airline until December 1994 when it was impounded by the Fedral Drug Administration in Miami. The aircraft later entered service with Transportes Chartres Do Brasil (TCB) as PP-TPC from 2002.
It was still active during 2004 but has since been withdrawn from service and remains in storage today in Manaus Brasil awaiting its fate. Investigations, and a campaign under the "BRING OUR BIRDS HOME" banner, were launched (by Paul BRENAN and associates) during March 2017, in order to try and acquire this airframe and have it returned to New Zealand, for preservation and display as the aircraft type which ultimately ushered AIR NEW ZEALAND into the "Pure Jet Age". The progress of this particular campaign may be reviewed per the following linked HJG forum thread ....
"BRING OUR BIRDS HOME CAMPAIGN"
tonymadgehjg.proboards.com/thread/8454/bring-birds-home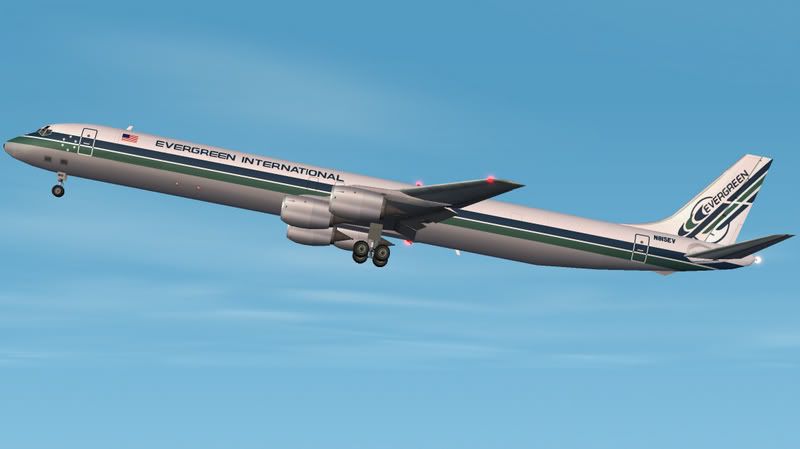 By December 1984 new FAA/ICAO noise regulations within the USA forced the discontinuation of Air New Zealand's DC8 freighter service to Los Angeles. DC8-73CF aircraft were briefly chartered from Evergreen International Airways during 1995 to provide additional freight capacity along the airlines Auckland/Los Angeles route. The airlines DC8-54F was subsequently relegated to mostly trans-Tasman, and Pacific regional services .... during which it operated the first ever flight by DC8 freighter to Apia Western Samoa on December 14th 1985. From September 10th 1985 the first of 6 new B767-200ER's were delivered to Air New Zealand.
On March 29th 1987 the airlines DC-8 freighter was entered into the Singapore/Christchurch air race .... held in celebration of the 50th anniversary of Christchurch International Airport. This particular flight was crewed by Captain Jim WOODHAMS and Captain Russell STEWART, F/O Gary SPICER, F/E Allan McFAYDEN and F/E Don NICHOLSON. AIR NEW ZEALAND Inflight Technician/Flight Despatch Officer (Navigator) Chuck REID, Flight Liaison Officer John KENNEDY, and Service Engineer Geof HORWOOD also accompanied the flight .... along with 3 horse handlers whom returned as PAX having accompanied the aircraft with a blood stock charter to Singapore the previous day, and a Christchurch Radio 3ZB announcer whom provided several live updates from the aircraft in regard to its progress en route to Christchurch. Cruising at FL370, and aided by tail winds exceeding 100 KTS, the aircraft achieved a velocity of MACH 0.85 and which was maintained until the flight was within its normal fuel plan for the route .... to win 2nd place with line honours in the Commercial/Military section of the race and ultimately be placed 3rd overall fastest aircraft on handicap having completed the flight in 8 hours 27 minutes .... whilst having also completed the airlines first ever Singapore/Christchurch service, establishing what is believed to be a point-to-point air time record for a first generation jetliner over the route, and the longest flight ever undertaken by DC-8 ZK-NZD.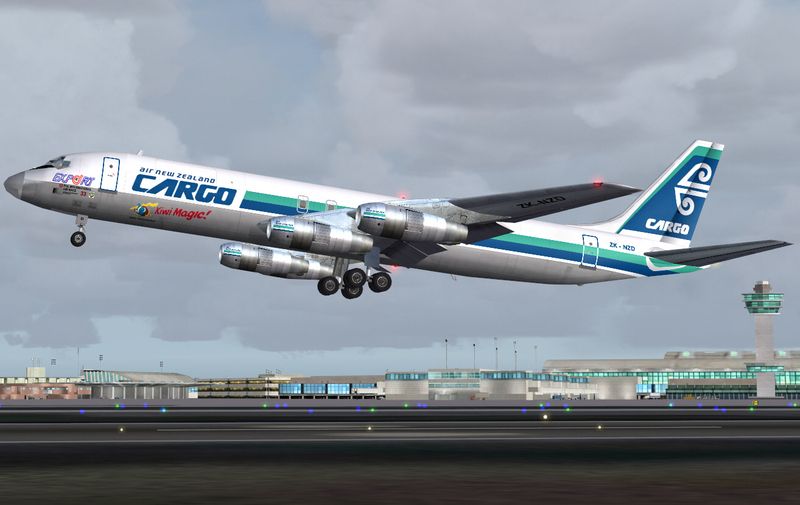 Billed as The Last Great Air Race .... the aircraft supported a hybrid livery during this flight and which featured a large comical Kiwi logo with "KIWI MAGIC" titles (applied to the aircraft during the 1986/87 Americas Cup challenge at Freemantle, Australia, and in support of KZ7 which mounted New Zealand's first ever challenge for the cup) with additional "SINGAPORE CHRISTCHURCH NEW ZEALAND" titles, "PDL INTERNATIONAL AIR RACE" titles and logo along with the airlines # "33" race designator in addition to a sponsorship legend reading "CARRIER FOR WRIGHTSON BLOOD STOCK" and a BP logo .... each of which appeared on the aircraft's lower forward fuselage section.
On September 26th 1987 22 years of highly successful DC8 operations were finally concluded when DC8-54F ZK-NZD operated Air New Zealand's last ever DC8 service between Sydney and Auckland (the aircraft had already flown Auckland, Brisbane, Sydney the previous day). This final flight was crewed by Captain Jim WOODHAMS, F/O Captain Bob TARR, and F/E Don NICHOLSON. The aircraft was immediately withdrawn from service and remained in storage at Air New Zealand's Auckland International Airport jet base until its sale to Kalitta/American International Airways on September 1st 1989. In Kalita service this aircraft became N806CK and was operated well into the 1990's. It is currently believed to be in storage at Oscowa Michigan awaiting its fate.
DC8's were instrumental in transforming Air New Zealand from a small and insignificant trans-Tasman and Pacific regional carrier into a proud and respected major force among great airlines of the world. These fine aircraft ushered New Zealand into the jet age and introduced new standards PAX comfort/service upon which Air New Zealand's superb international reputation has been founded.
This article is dedicated to the memory of my good friend the late Captain Bob TARR (Air New Zealand Training Captain B767 .... and a great FS enthusiast and aero modeller too) December 18th 1936-September 26th 2005.
Mark CRANSTON
AKL/NZ